To be a valuable team member it is essential to be familiar with the various skliis involved in a game project. You will likely prefer to be only a writer, artist, designer, promoter or musician, but to have effective communication within your team requires an elementary knowledge and appreciation of all skill sets. So, for the first 9 weeks you will be exposed to a variety of lessons designed to familiarize you with these various game project duties.
---
Week 1-2 Digital Citizenship Review then Make a CYOA 100 pts

Reviewing Digital Citizenship using Interland
Must complete all 4 areas with a combined score of 1200 or greater
When ready, take THIS test
If you score poorly, please email me your Interland score screenshot of 1200 or greater. You may have to retake low sections to raise your score.

---
NOW, make a CYOA using the free web based Twine
Must include 3+ relevant graphics (borrowed, sketched, photos)
Host custom images on Imgur or Imgbb
Must have 12+ branches/paragraphs and 4+ alternate endings
Student TWINE Example
TWINE GUIDE
TWINE YT Playlist

ALTERNATIVES:
Inkle or Quest
Inkle PRO Example | Kenneth Sample 1 | Student Sample 2
Quest Examples

---
Weeks 3-4 Visual Novel. . .

100 pts


We will be using a visual novel engine – used by thousands of creators from around the world – that helps you use words, images, and sounds to tell interactive stories that run on computers and mobile devices. These can be both visual novels and life simulation games. The easy to learn script language allows anyone to efficiently write large visual novels, while its Python scripting is enough for complex simulation games. It is open source and free for commercial use.


FOR an A+   [[[ CHEAT SHEET!!! ]]]
Original storyline
Different music
Original characters and backgrounds (cartoonify photo references?)
Options:

Take photos of classmates (head down to knees), lasso crop out background (or magic wand), save as PNG so background is transparent, resize to about 300 x 600 pixels.
Use an online character creator : Avachara

Hand drawn and scanned
CC labeled for reuse with modification
Modify with artsy filters
---
For the next 6 weeks you will be exploring FUSION by creating 3 practice games demonstrating many of the basic game mechanics, i.e. * player control * target/enemy movement * shooting * sound * destroy * collisions * create * life, score, health

Weeks 5-6 Make a Collector ! . . .

100 pts


[example][template]
4 direction with animation, snap to grid, background obstacle, enemy movement, collision-destroy, score, life,
sound effects: Web Sound FX [or download]
Related tutorials: 8/4 Direction : Maze : Collision : Dissection
The Games Factory 2.0 Tutorials : [ONE] [TWO] [THREE] [FOUR]



Week 7

Make Music . . .

50 pts




Use 2 of the follwing

to create 2 original music tracks for your upcoming platformer!
Soundation (export WAV)
Onlinesequencer (export MIDI) then use online converter for MP3 or WAV
Audiosauna (Guide) (export song as audio WAV file)
Need ideas? Take a known song and FLIP IT!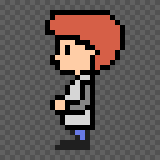 Week 8
Make a Sprite Sheet . . .
50 pts
Create 3 srpite sheets for your upcoming platformer. A main character side walking cycle with forward facing idle frame. An enemy. A BOSS.
Use Piskel or your phone to take pics of a poseable toy or a friend in costume against a flat background and clean up in Paint.net.
Weeks 9 Make a Platformer ! . . .

100 pts


[example][template]
Platform control, obstacle, platform, ladder, scrolling, path, import sprites (walk, jump. fall, disappear), jump on enemy logic, dialog/info boxes (great for RPGs!)
Related tutorials: [FIVE] [SIX] [SEVEN] [EIGHT]
FREE SPRITES!:
[C:\charasmaker] or RPGVX EXPORT or
Sprite Generator or HERE or PISKEL!



[=============== END of Quarter ==============]




Weeks 10-11 Make a 2 player

COOP

. . .

100 pts


[example][template]
Go back to your previous collector or platformer project and convert it into a 2 player COOP!
Car control modified, shoot in direction of, hot spot center rotate, action point, disappearing animation, 2 player setup/score/life, random enemy appearing and shooting at you.
Related tutorial : [NINE]


---
Week 12-13

Create an AR/VR experience. . .             

100 pts


using BlockSmith Builder (already installed on class computers) complete Building an Aquarium Part 1 and Building an Aquarium Part 2 then improvise and create your own original experience. Looking for BONUS options? Play on smartphone? Google Cardboard? Multiplayer?
Blocksmith Creator Cheat Sheet : Tips & Tricks
Viewers:
Android APK
iOS requires Testflight and an invite
email (on your smartphone) create@blocksmithxr.com and ask for the Testflight invite

---
Weeks 14-15

CODING Intro. Pick 1 of the following. . .

100 pts



Construct 3
Tutorial

APP LAB
Start with the 4 10 minutes demos then get as far as you can in UNIT 3 focusing on the block editor activities.

Stencyl
Already installed on the class computers. Use MIT's snap-code method to make a game.
Take Stencyl Crash Course 1 and Stencyl Crash Course 2



---
Weeks 16-17 3D Game . . . 100 pts

USE UNITY (already installed) and follow one of these tutorials:
Roll-a-ball tutorial
2D UFO Tutorial


OR Use Blitz to hack a 3D driving game! HERE

ADVANCED tutorials are also available. One that focuses more on using animated 2D sprites (2.5 D) and another that uses animated and static 3D meshes.

Anim8or for the 3D meshes!
[already installed in the C:\drive]
Create a variety of simple static objects for use in your Blitz project.
YouTube Tutorial
---
Game Design Videos
Making Your First Game
The No Hit Wonder
---
Next semester/year you'll be a bonafide VETERAN

with the freedom to choose your favorite tools and project themes!
---
Inspiration

* Gamestorm
* Alternate reality
* Side story
* A story you wished had ended differently

through SURREAL ART: